It's Monday folks! Normally, I wouldn't be all that excited about a Monday. But, Mondays this summer have been all about the crafting and creativity – even when I was blog stalking and not participating! A big thank you to Tara at 4th Grade Frolics! Makes a Monday much more manageable…
So here we go with my Monday Made It(s) for the week.
Back when I was just stalking reading all these amazing blogs, I found these adorable letters on 4th Grade Frolics:
Since I have been working hard to revamp my classroom, I couldn't wait to make myself a set. I (finally) found the letters at Michael's and used a cute scrapbook pad that has a bunch of coordinating geometric patterns and colors. I traced the letters onto the back of the scrapbook paper, cut each one in half and used Mod Podge to put each half on each letter. I put the ribbon across the middle, and added another layer of Mod Podge…I tried to be patient and let it dry first! I even added a little flower sticker onto the 'R' because I thought it looked cute.
Now I'm just trying to figure out where to hang these in my room…once I find the perfect place I will take a picture! I'm really working on making my classroom a more inviting place to learn and grow this year.
Ok, on to Monday Made It number 2! Unfortunately, my idea inspired by Teri at A Cupcake for the Teacher turned into a failed Monday Made It.
:-(
See how cute Teri's Box Top Holder turned out??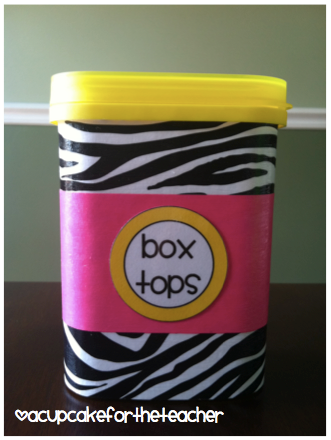 Ok, well mine started off with a plastic jar that I found under the sink in my classroom. Lord knows how long it had been there, but I knew I could repurpose it! So, I dragged it home, washed it up and it has sat here ever since waiting for a project. As soon as I saw Teri's ADORABLE holder, I knew that my jar had a reason for living again! AND, I would get to incorporate my BFF, Mod Podge.
I gathered up my Mod Podge, my cute scrapbook paper and my jar and set off. I cut a section of paper to fit around the middle.
Then I started slathering each side of the jar in Mod Podge. I stuck the paper onto the jar, one side at a time, carefully pressing down so that the edges would be flat.
Except the edges won't go flat. At all. Because the corners are rounded.
I thought maybe I could cover it with ribbon, but no such luck.
SO. Now I have a very sad, paperless jar, which will not hold Box Top in a cute way any time soon. :-(
On a happy note, I am currently on the lookout for a different jar
(WITH FLAT SIDES)
to cover with cute paper and make into a fabulous Box Tops Holder!
Ok...that's it for today! Head over to 4th Grade Frolics to check out what other people (successfully!) made this week!