Hello, my bloggy friends! I know I have been MIA for a couple of days…so before we get to school stuff, let me tell you why!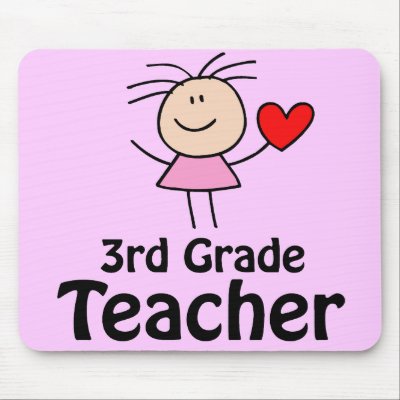 Cute mousepad! Click to get one!
I was lucky enough to be invited to co-teach a New Educator Institute with a friend for two days. We were both participants in a Mathematics Teacher Leadership program, and she asked me if I would co-teach the 3rd grade section of the institute about math! We had a blast and worked with some amazing teachers, some of whom were brand new and getting ready to start their first teaching job.
We used our time to talk about best practices in mathematics teaching, as well as do some math with the participants.
We also worked on helping them get to know their resource, Everyday Math.
I love working with enthusiastic teachers and this was a great experience! I was beat at the end of each day…hence, not blogging like I should be. :-)
Ok…now on to something I've been thinking a lot about for the new school year.
I've always struggled with transitions. Every year I recognize this, and every year I still haven't figured out how to fix it. So. Here we are! I have an idea that I'm going to throw out there, but I would love to hear how transitions work in your classroom! (DISCLAIMER: I am SURE this is not an original idea!)
Here's the idea: I'd like to use music in between each subject. When the song starts, everyone begins to clean up and (hopefully) they are ready for the next thing by the time the song is over. If I pick songs that are a decent length (maybe one to two minutes) I'm hoping that it will fix up some of my very messy and LOOOONNNNGGGG transitions!
Here's a song I'm thinking about using when it's time for science:
One of our first science units is about fossils. I thought I might change up the song based on the unit we are doing. (They Might Be Giants have a TON of educational songs that are fun!)
I think this would be enough time to clean up, and get out Science Notebooks to get ready for science time! I'd like to try and find a few other songs to use throughout the day in a similar way.
Ok, so what do you guys think? What kinds of things do you do to manage transitions? Leave some comments to share your ideas!