When I started my blog this summer, I wasn't sure what I was doing (I'm still not most of the time). I have been so amazed by the blog world and everything that it can offer teachers!
I am so grateful to all of my followers for helping me to reach a bloggy milestone. I really can't believe that 108 people have decided to pay attention to my blog, and I am so happy!
Seriously...thanks to everyone who reads, follows and comments on my blog. You all are the best!
SO, without further ado, my
100 Follower Giveaway
! Hooray!
I am also so lucky to be able to say that many of my new-found friends from the blogging world have generously and happily donated some fantastic items to the giveaway! Check all this out:
Kelly from Teaching Fourth is donating her Fall Behavior Management Posters, Buttons and PowerPoint!
Caitlyn from Fourth Grade Lemonade is offering any one item from her Teachers Pay Teachers store!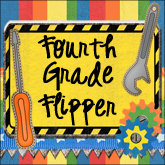 Sara from Miss V's Busy Bees is offering TWO items from her TpT store!
Tara from 4th Grade Frolics is donating any item from her TpT store!
Angie from Ms. O Reads Books is donating her Reading Promotion Signs and Bookmarks!
Denise from Yearn To Learn is donating her Election I Have Who Has...just in time!
Debbie from K is for Kinderiffic is giving away her Bubble Gum Themed Word Family Sorting Pack!
Tina from Mrs. Crofts' Classroom is donating her Picture Writing Prompts Packet!
Megan from I Teach...What's Your Superpower? is offering any item from her TpT store!
Mercedes at Surfing to Success will be donating her Purple Polka Dot Frames and Christmas Owls!
My talented hubby will be donating a 12X18 print of one of his photos - winner's choice!
I had a hard time deciding what to put in the giveaway! Soooo....I decided that the winner can choose a $25 giftcard - Target, Starbucks, TpT, or Michael's!
I can't say enough thanks to all of my amazing giveaway participants and, of course, my awesome followers! Good luck to everyone who enters!
a Rafflecopter giveaway