I'm not sure if it's the weather or what, but I sure have been feeling negative lately! I have had a bunch of issues with a certain student at school and some adults as well and blah, blah, blah, blah...
I need to break out of the negativity! Halloween is almost here, Thanksgiving is around the corner and I have a lot to be thankful for.
So, in the spirit of being positive, I'm linking up with
Jennifer at Rowdy in First Grade
for her "Tell Me Something Good" linky party.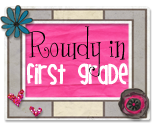 What a great way to inspire all of us to focus on the positive things going on at home and at school.
Here's how it works: write about one good thing that's happening at school and one good thing that's happening at home. Then go link up at Jennifer's blog and read about all the other great things happening to your bloggy buddies!
Something Good at School:
The best thing going on at school right now is Daily 5! I am so proud and impressed with my class. Each day they do their Daily 5 rotations without me having to be the Daily 5 "police." When it's time to rotate, they do so quietly and get started on the next rotation within one minute...it's pretty remarkable and I am feeling pretty good about it! Way to go 4th graders!
Something Good at Home:
This one is easy...the best thing I've got going on at home right now is my awesome husband. Between parent-teacher conferences, extra long meetings and just general over-workedness (that is totally a word) he has been keeping me afloat! Several nights he has made dinner (and cleaned up). He went to the county to get my new license plates for me. He even stopped on his way home today and picked up the dog food. I'm one lucky girl and he's the best thing I've got going at home by far! :-)
Whew! That feels good! I need to remember to keep it positive...thanks, Jennifer!
Now it's your turn...think about what's great in your life and go link up!